TTTT22 – Regeneration for the Region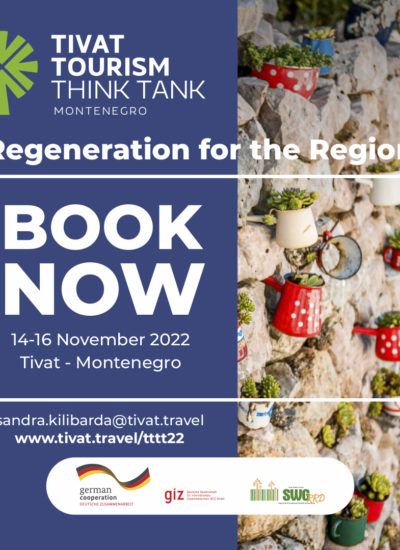 Tivat Tourism Think Tank 2022 – Regeneration for the Region
Welcome to "not just another conference", but the first international educational-experiential event in Montenegro, an exceptional get-together for the region and beyond, with hand-selected topics to get you on the top of issues that are moving, shaking and changing your work and our industry locally and globally.
We expect public and private sector participants from Montenegro and the neighboring countries' tourism and hospitality, some of the leading international professionals as keynote speakers – Anna Pollock, prof. dr Claudia Broezel, Ulf Sonntag to name a few – altogether 10-12 international and regional / local speakers and moderators of our interactive "Regeneration Lounges".
Both afternoons are reserved for networking, impressions and activities with local touch, and for simply relaxing in the unique atmosphere of Tivat.
The venues are the hotels Regent Porto Montenegro and Palma, directly on the beautiful coast.
The main language at the event will be English.
For pre-registration, overnight bookings or any questions you might have, please feel free to contact Sandra Kilibarda, e-mail: sandra.kilibarda@tivat.travel, tel: +382 68 498 178.