TransformaTivat
16-November-2020
TransformaTivat

The TransformaTivat project is so conceived to see electricity cabinets as blank canvases brimming with creative potential, inviting for artistic expression to be enjoyed by all. Painted by local artists, the cabinets located along the promenade stretch from Pine to Kalimanj, seek to add a touch of beauty to Tivat's urban landscape.
The project focuses on the local community, attempting to improve the neighbourhood visual appeal. Its primary goal is to bring art into the unexpected places, and bring joy to everyday life.
Apart from the visual appeal offered freely to any passer-by, this is also a form of social activism. Each box is unique and distinct, expressive of the individual artistic character, and guided by the universal idea that we are not alone in the world. The works are also wake-up calls in quest for truth: we are all, with everything we do, directly responsible for the planet Earth, the nature and all living things.
The TransformaTivat tour is an offer for an eye-appealing excursion, for locals and visitors alike, to explore and enjoy adorned cabinets as mini works of public art. The tour is a perfect opportunity for family activities, for cyclists and all those enjoying murals, public and street art.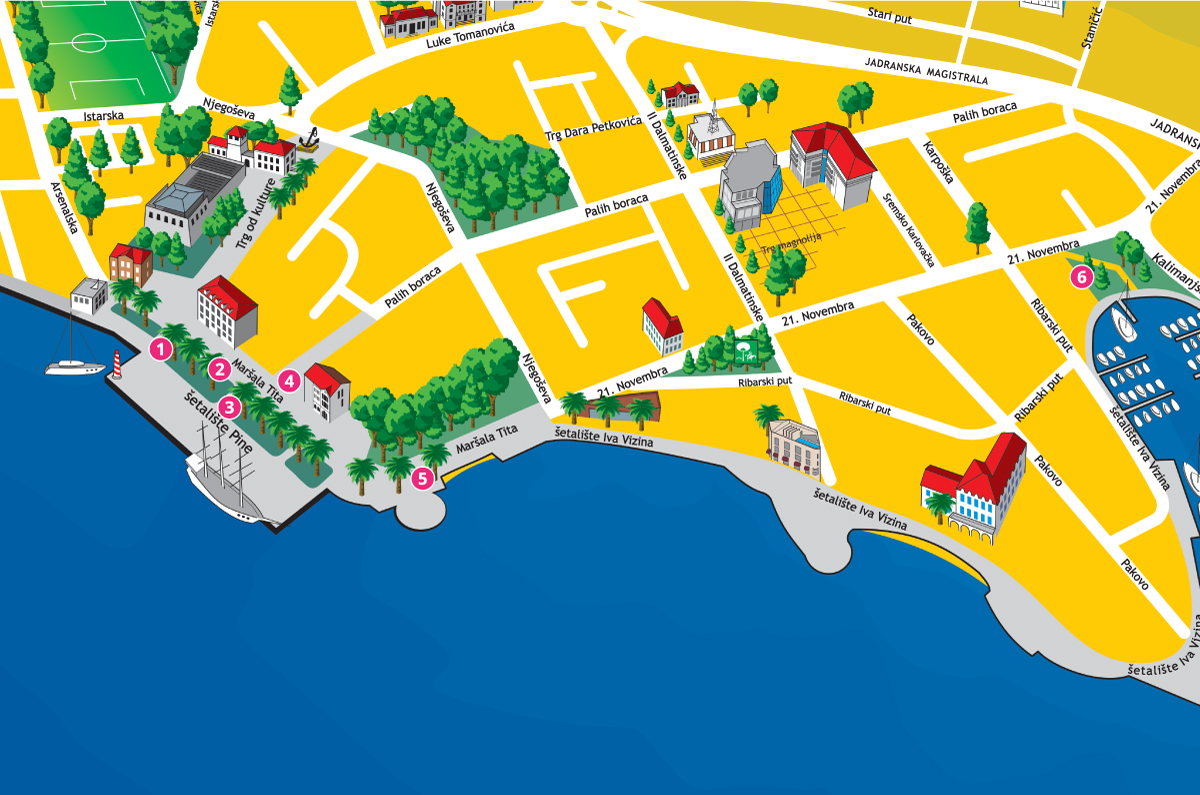 About artists and their works
Vladimir Jovićević
Vladimir Jovićević was born in 1987 in Podgorica. He started painting at an early age. He attended the painting school at the Centre for Culture Tivat. After finishing the grammar school in Kotor, Vladimir moved to Italy, where he took his degree at the Accademia di belle arti di Terni, and continued his professional development in realistic painting. He attended the Florence Academy of Art, where he was also engaged as a student assistant. He got an award from the Academy that came with the free use of a studio and the possibility for further advancement.
At the end of his studies, he got the best painting award for the portrait "Rocio". Since 2013 he has been teaching a course at the Intensive Drawing Programme at the Florence Academy of Art.
His paintings are held in private collections in London, New York, Anchorage and Barcelona.
Title: Tuna

The recognisable realistic approach is what distinguishes the works of Vladimir Jovićevic, here depicting prey fish. The circular format of his work is seen in his approach to the cabinet from all sides, creating the impression of a naturally flowing composition. The beauty of the coloristic volume gives the work its fullness and vitality, making it almost life-like. Vladimir sends a forceful message that all living things partake in a harmonious and balanced functioning of the planet. Although prey fish are at the top of the food chain, their disappearance would have adverse impacts on the overall marine ecosystem, and, by extension, on the quality of human life.
---
Tanja Nikolić
Tanja Nikolić was born in Kotor in 1982. She showed interest in painting, drawing and modelling since early childhood. After graduating from secondary school, she enrolled the Arts Academy at Široki brijeg, the Graphics Department. Apart from painting and graphics, she is also involved in photography, applied arts, making of souvenirs and carnival masks. She introduced herself to the audience with the "Searching into the Infinity" exhibition displayed in Tivat, Lustica, Perast, Budva, Bar, Podgorica and Bijelo Polje. The exhibition "Waiting", displayed in Tivat and in Mimara Museum in Zagreb, was born in collaboration with Anton Gula Markovic. She took part in several collective exhibitions. Tanja lives and works in Tivat.
Title: Sea Harmony


Using the motifs of sea turtles and jelly fish, frequent visitors to the waters of the Bay, Tanja Nikolić reminds of these species being endangered, and yet critical for the whole marine ecosystem. The artist's sensualism is based on the expressive motifs levitating against the blue backdrop. The weightlessness is almost palpable, indicating that mere eyesight is enough to disturb the harmony, which is the very essence of Tanja's work: look, but don't touch. Just like electricity cabinets that can pose a threat to life on one hand, but on the other are needed for normal power flow, the living beings that can hurt us in some ways are also needed for harmonious functioning of the world and of us in it.
---
Jana Farkaš
Jana Frkaš was born on January 19, 1988 in Belgrade. She got a degree from the Faculty of Fine Arts in Belgrade, the Painting Department in 2016. Apart from painting, book illustrations and sculpture are her passions, something discovered only recently as her prospective path. She illustrated five books, two of which she authored. One of these books was promoted at the Belgrade Book Fair. Farkas is a self-taught digital illustrator, with a wide ranging opus of digital drawings and illustrations.
The books she illustrated include:
Dnevnik jednog Zigija (Zigi's Journal), published by Solaris in 2019 (40 illustrations presented at the Belgrade Book Fair)
Just A Black Bird, a digital book with 10 illustrations (available at Kobo and Amazon, translated into English)
Duhova priča (A Ghost's Story), an illustrated booklet for children and adults, 50 illustrations, with Farkas as the author, self-published.
Duhove istine (Ghost's Truths), in preparation for publishing.
A visiting illustrator with three illustrations in the book by Slavko Luković, O čašici uz čašicu (About a Drink over a Drink), published in 2019.
Farkas participated in many group exhibitions, and she also tutors children for admission into fine art academies.
Title: Creatures of the Sea


The work of Jana Farkaš is an homage to all the incredible creatures we share Earth with, particularly the ones that, through the sea, connect us with the world. In her words, her composition is wide and deep and global. The deep blue is highlighted by subtle vibration of the deep hues unimposingly calming the whole composition, while the sea creatures freely take the limelight. With distinct poetics and sensitivity, Jana urges compassion and empathy not as a result of an effort, but rather of a dire need.
---
Hana Mirkov
Hana Mirkov was born in 1989 in Split. She graduated from the Faculty of Fine Arts in Cetinje and is currently a postgraduate student at the Accademia di belle arti di Bari, Italy. So far she has had 8 autonomous exhibitions and over 50 collective ones, 6 charity exhibitions and took part in 4 urban landscape upgrade projects. Hana has been a member of the Association of Fine Artists of Montenegro since 2012 and took part in a dozen or so colonies in Montenegro, Serbia and Bosnia and Herzegovina.
She won numerous awards and honours, including:
2006 – Golden Palette – Small Montmartre of Bitola, Macedonia.
2007 – The World of Art, Celje, Slovenia, at the 12th international exhibition of artworks under the theme "Who am I".
2011 – first prize at the Faculty of Economy, Podgorica, Montenegro, the exhibition entitled "Meetings" for the painting "Prostor u kom sam" (The Space Surrounding Me)
2014 – her work "Birds" was published in the prestigious catalogue Calendaro Gutenberg 2014, Mediterranean Dream, followed by exhibitions in Rome, Milan, and the Region of Salermo, Italy.
2015 – a monograph "Painters from Tivat", a collection of local painters over the last 40 years, Tivat, Montenegro
Title: Colourful Octo


Hana Mirkov opted for the motif of an octopus. With her work she wishes to draw the attention to exceptional intelligence as the main feature of all sea creatures, but also their ability of disguise, looking as if they use their own skin to make three-dimensional images of objects in the marine environment. For this reason, as she put it, she intends to disguise the cabinet with this intelligent predator spreading its tentacles all around it. Knowing Hana's work so far no doubt this will be a perfect composition of rich colours and distinct artistic expression.
---
 Iva Gopčević Čelanović
Iva Gopcevic Čelanović was born in 1980 in Kotor. As a free artist, she engages both in artwork and youth activism at the local and international levels. Through the projects delivered by the NGO Creative Centre Tivat, that she initiated, she has worked with children, youth and women in informal education and art and culture programmes since 2011.
Iva studied drawing and painting with renowned painters in Tivat, Belgrade and Novi Sad. She participated in a dozen or so collective exhibitions. She finds inspiration in the images of the Boka Bay, people that surround her and the olive tree.
Title: Breathe In

Iva's work entitled Breathe In is a metaphorical message to people to pause, take a deep breath and absorb the beauty of life. It is a part of the "Save Ocean's Life" cycle that emerged as a need to draw attention to the magnificent creatures living in the sea. Using the specific visual vocabulary and the motif of a turtle is reminiscent of the mutual interdependence of humans and nature. As pointed out by Iva, people's quality of life depends largely on how well-preserved the marine system is, already now quite burdened with the weight of human irresponsibility.
---
 Zoran Kruta
Zoran Kruta was born on August 16, 1985 in Kotor. In 2012 he graduated from the Academy of Fine Arts, the Painting Department, in Trebinje, Bosnia and Herzegovina. The same year he became a member of the Association of Fine Artists of Montenegro. In 2014 he started working for the Centre for Culture Tivat, and since 2018 he has been with the Public Institution Museums and Galleries of Tivat as a museum pedagogue.
He is currently on master studies at the Academy of Fine Arts, the Painting Department, Sarajevo, Bosnia and Herzegovina.
He had several autonomous and collective exhibitions and participated to several art colonies in the country and in the region.
He is active in creative and artistic activities with children and youth. He lives and works in Tivat.
Naziv: "Title: A Story form the Bottom of the Sea"

With this work Zoran Kruta continues his artistic series entitled The Story from the Sea Bottom that he has been working on for a while quite intensively. His exploration of the marine world in the form of a drawing and a picture is a reflection of his personal quest for the hidden and the subconscious, and here the artist gives it the form of a three-dimensional painting projection. The harmonious and vibrant composition is seen in the image of a fish whose movement is visible from all sides of the cabinet. His independent, harmonious and unique artistic expression is visible also in this work. Apart from the beauty of colours and the refined expression, one can also observe strong symbolism in the presentation of a hook remindful of all temptations present in the lives of all living things, making us wonder how, and whether at all, we are any different from other living beings on the planet.

Text: Nina Milićević