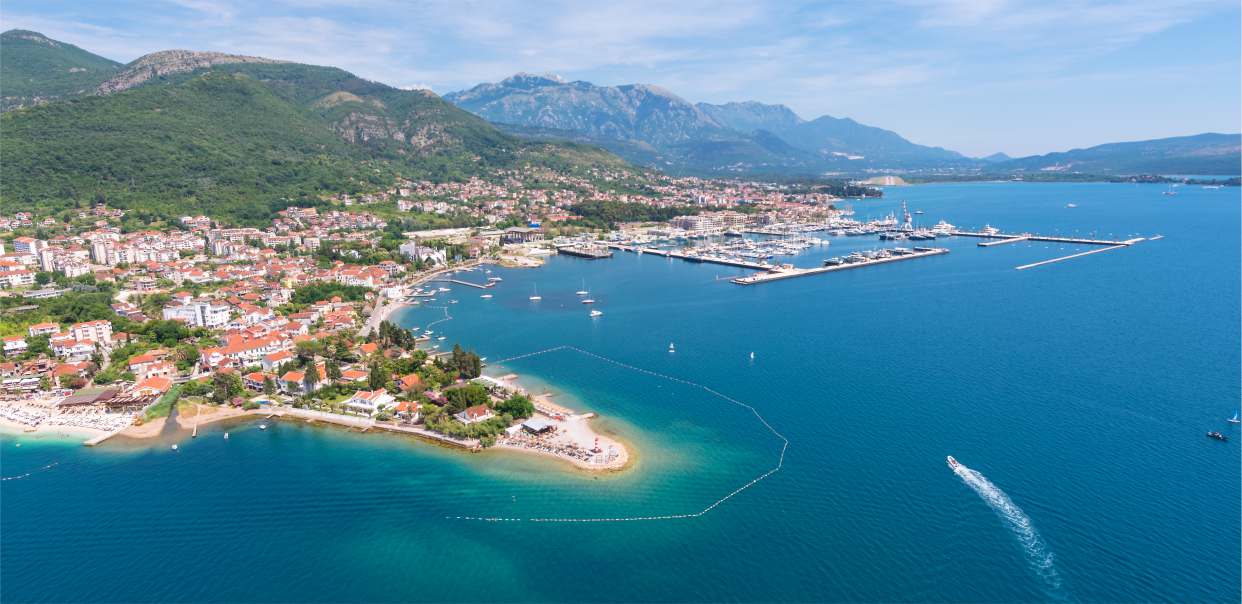 Sail, paddle or swim by day; go birdwatching, hiking or biking to the olive groves and villages of Luštica or Vrmac peninsula. By evening, enjoy beautiful sunsets from the vibrant Tivat, Porto Montenegro or Luštica Bay waterfronts, discovering local tastes and culture with a modern twist.
Sail, paddle or swim by day; go birdwatching, hiking or biking to the olive groves and villages of Luštica or Vrmac peninsula. By evening, enjoy beautiful sunsets from the vibrant Tivat, Porto Montenegro or Luštica Bay waterfronts, discovering local tastes and culture with a modern twist.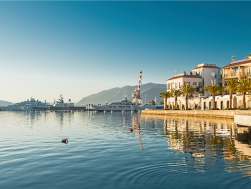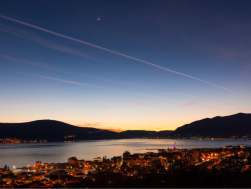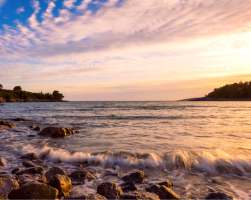 Hiking
The enchanting beauty of the Boka Kotorska bay, nature and ancient settlements – Risan, Kotor, Perast, Tivat, the sea bordered by steep mountains that enter the mainland 28 km in length, will give you an unforgettable view from the beautiful trails of the beauties of untouched nature.
A large number of hiking, hiking or mountain biking trails are located on the Vrmac hill and peninsula, which is located at the foot of the Lovćen mountain range or the Lustica peninsula overlooking two coasts: Boka Kotorska bay and the Adriatic.
View PDF Active Holidays and find hiking trails. 
Map of Vrmac PDF
Biking
A healthy body also hides a healthy spirit, which is why it is necessary to maintain fitness and nurture your health, to give nature the opportunity to be your friend, because only then will you know the magic of true friendship and the power with which it heals all pain.
Cycling, as a form of sports and recreational activity that promotes healthy and relaxing lifestyles, is gaining in popularity both in Europe and in Montenegro. Exercise, the pursuit of a healthy life and stay in nature, rest and mental recreation are the main motives for cyclists to opt for this kind of activity. Therefore, it has found its place in the tourist offer of Montenegro, namely Bay of
Kotor and Tivat, which have both natural and cultural wealth in the whole experience of these activities. The city streets of Tivat are marked with cycle paths and this is a way to discover it in a healthier and different way.
See below PDF Active Holidays for more information.
Map of Vrmac PDF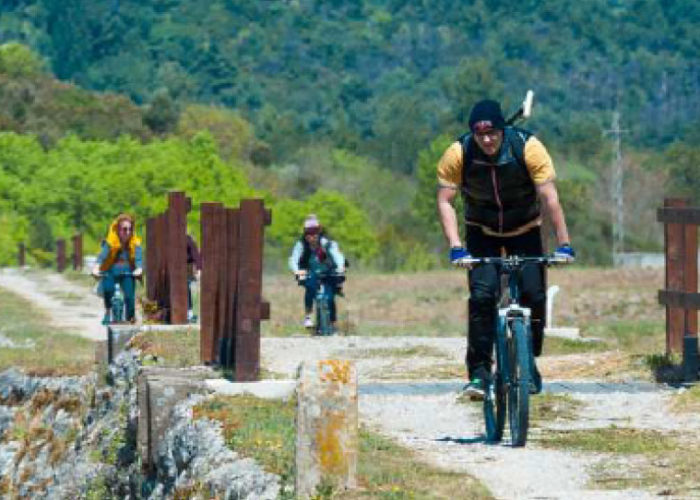 Birdwatching
In natural environment of Solila you can observe the wonderful richness of flora and fauna. An immense wealth of the nature. From a lookout and different vantage points, you can watch birds in peace without disturbing them. The silence and the voices of the birds are both music and balm for your soul.
Bird watching or birdwatching is a very popular hobby that involves both bird watching and listening to bird calls. Birds can be observed with the naked eye, with binoculars and in some cases with a durbin. In Tivat, the Solil sanctuary is an ideal place for bird watching. The bird sanctuary of the Tivat Salt Lake is 150 ha in size. Here alone 111 species of birds have been recorded, 49 of which are found exclusively in aquatic habitats. Some of the rare and special species that can be seen on the Solil include ibises, cranes, gills, great emperor snipes, snipe and willow birds.
Visiting the bird sanctuary of Solila is worthwhile all year round. However, real bird lovers and ornithologists are advised to come between February and the end of April. This is when the birds return from their wintering and nesting grounds in the south. Important dates that ornithologists and birdwatchers should note in their calendars are February 2 – World Wetlands Day, the second weekend in May – World Migratory Bird Day; the first weekend in October – European Birdwatching Day (Eurobirdwatch).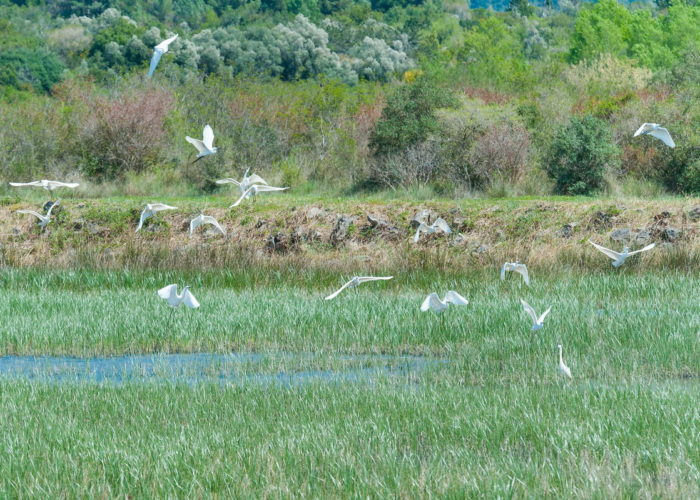 Golf
Relax in style in Tivat. The construction of an 18-hole golf course in one of the most attractive locations, on the Luštica peninsula, created conditions for practicing this type of sport in Tivat. The course was designed with the precision and passion of internationally recognized Gary Player, professional golfer and global ambassador of the World Hall of Fame, who, following his golfing career as a player, became an award-winning course designer. All golf fans can enjoy this sport in one of the most attractive locations in the world.
The location of the golf course offers incredible views in all directions, south to the Adriatic Sea and north to the Bay of Kotor. Conceived as one of the most beautiful golf courses in Europe, the terrain will be a combination of carefully blended elements, natural terrain and maintained the grass for every golfer to enjoy.
For now, golfers can spend time at the Lustice Bay Golf Course – open every summer, offering spectacular views of Tivat and Tivat Bay.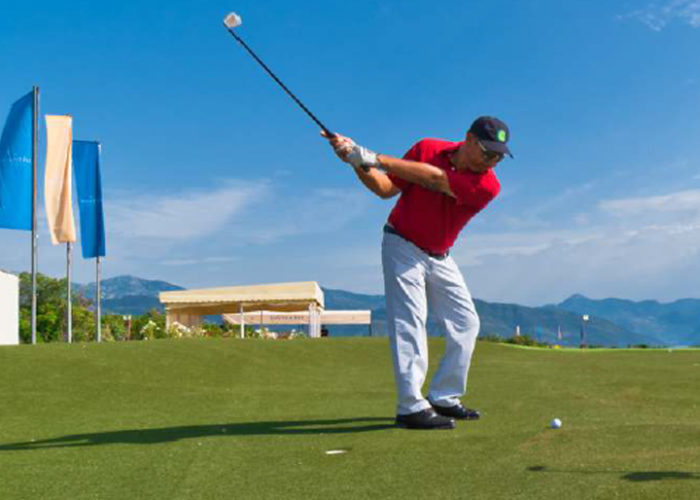 SUP
SUP or stand-up paddling was developed in Hawaii and today it is a popular sport all over the world and it is becoming more and more popular in Tivat as well. SUP is probably so popular because it is quick and easy to learn and no previous experience is required. Also, no super fitness is needed to get on the board. It's a sport for everyone from 7 to 77 years old. If you haven't tried it yet, you can do it once during your holidays in Tivat.
For SUP fun you don't need much: just a surfboard and a long paddle – and the great thing is that you can practice the sport on all water surfaces. In a very short time, the water sport has become very popular because it offers an ideal combination of fun and recreation.SUP offer in Tivat is growing every year. On a total area of 87 square kilometers, you can paddle along the protected coastline with beautiful beaches and no disturbing boats in the Bay of Kotor.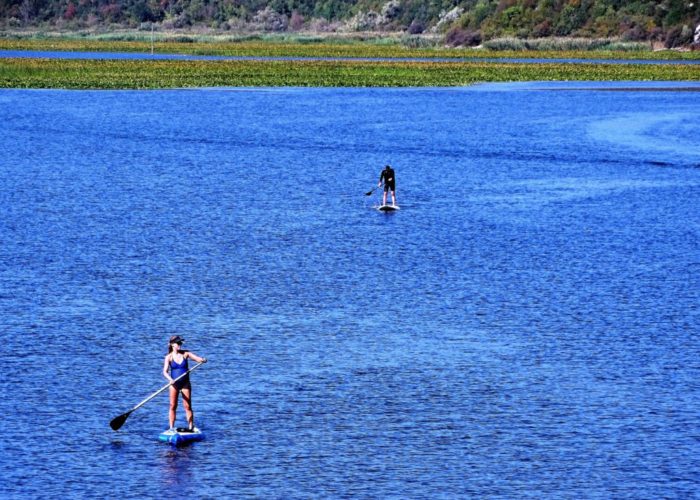 Kayaking
Every summer it becomes clear why Boka Kotorska bay, the bay of Tivat, is one of the most beautiful seaside resorts for kayaking. The water in the bay is calm, the natural scenery magnificent. The rocks of the Lovcen and Orjen mountain ranges are reflected in the clear sea.
It is not only the richness of nature that attracts adventurers from all over the world to the small coastal town of Tivat to try their hand at kayaking. Life pulsates here all year round. The conditions are ideal in the pre- and off-season, when the temperatures are moderate, the sea and the beaches are still quite empty.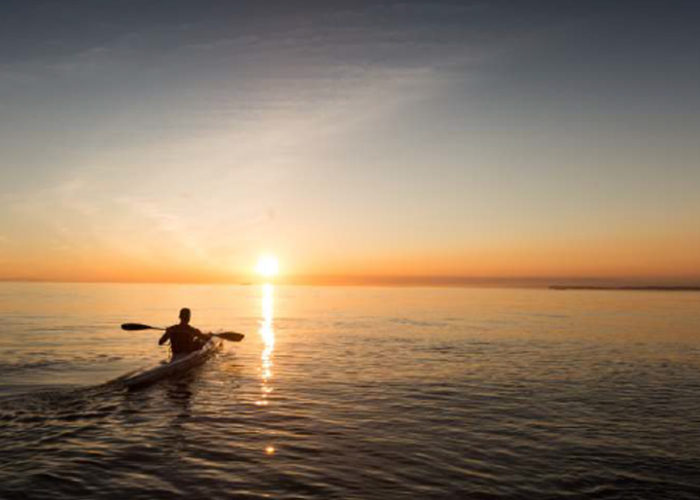 Scuba Diving
Divers and numerous lovers of the deep sea have long recognized the beauty of the Adriatic coast and sea. The great biodiversity of the underwater world, which is offered and protected in most sea areas, is reason enough to decide to go diving during your holidays.
If you don't feel like swimming and rowing only, we recommend diving to enjoy the sea. The bay of Tivat and the bay of Przno are ideal for diving. In addition to the clear azure sea, both bays represent attractive diving sites, where professional divers have for years come across the wrecks of old ships, submarines of interest for exploration, as well as Mediterranean marine flora.
In the diving club "Neptun-Mimoza" from Tivat, founded in 1993, you can take diving courses, book organized dives and also rent the complete diving equipment. The Tivat Diving Club is located in Donja Lastva, right on the beach in front of the Kamelija Hotel.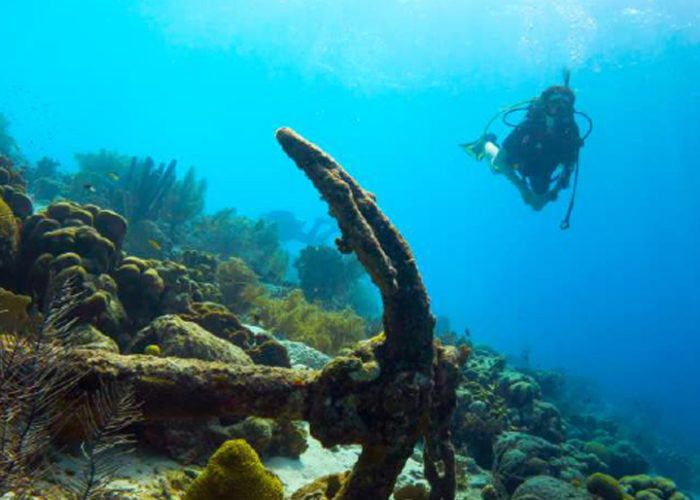 Sailing
Sailing is the major water sport that allows a sailboat to be steered on the water using only the wind. It can be classified as both a water and an air sport, as the most important factor is the wind power that largely drives the boat.
Sailing is fascinating in both calm and choppy seas, in strong winds and in very difficult conditions. Sailing allows an intense exchange with the sea and thus opens up a feeling of complete freedom. It is an ideal year-round sport and for the entire holiday.
Sailing Club Delfin
Montenegro's first sailing club was founded in 1951 – it is sailing club Delfin. Since then, Delfin sailors have participated in many prestigious regattas in Europe and the world, winning numerous awards. The club counts over 150 sailors of different ages, distributed among the Olympic competition classes (Optimist, Laser Radial, Laser Standard and Laser 4.7). Besides organizing numerous competitions, the Delfin Sailing Club also offers a sailing school for club members and interested tourists.
PMYC
There are different membership programs (gold, silver and bronze memberships), The memberships enjoy numerous benefits from the facilities that Porto Montenegro offers: PM pool facilities, sports club, sailing competitions or training.
Padel
In addition to the regular tennis courts throughout our municipality, we suggest that you try padel during your stay. At first look, padel looks like tennis and actually contains elements of tennis, table tennis and squash. It is played in pairs on a court that is about 25% smaller than tennis. What makes padel so attractive is that you don't need any previous training. Padel offers a combination of serious training and good fun, both for recreational and professional athletes. It's a game for all generations and the perfect way to compete with friends and stay in motion.
Padel Montenegro Donja Lastva (near Hotel Kamelija)
https://padelmontenegro.me/en_US/
Email: padelmontenegro@gmail.com
Phone: +382 69 102 004
Montenegro Sports Club – Tennis courts in Porto Montenegro
Email: scbookings@portomontenegro.com
Phone: +382 32 660 744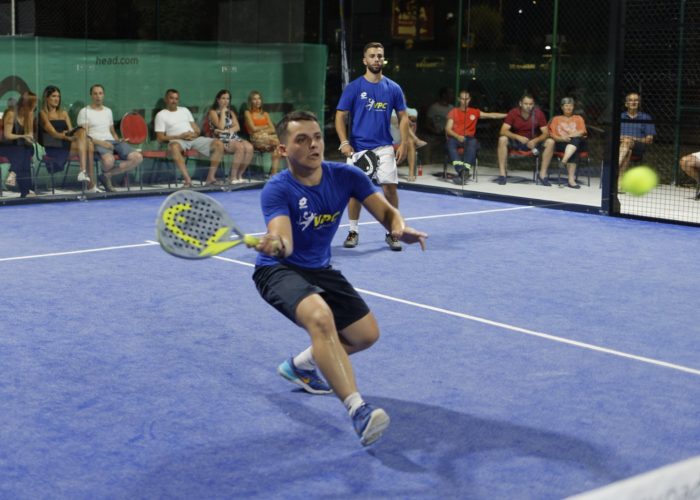 Fishing

The Bay of Tivat and the waters around Tivat are very rich in fish. There are many different types of fish and other sea creatures near Tivat. The most common species found in the Bay of Tivat are sea bass (dicentrachus labrax), dentex dentex, dorado (sparus aurata), pagar (pargus pargus), barbun (mullus barbatus), shirun (trachurus mediterraneo), sardine (sardin pilchardus)…
The bay of Tivat is also home to lobster, squid, octopus, mussels and other molluscs.
All kinds of fishing are possible on the Montenegrin coast and thus also in Tivat: anglers or hobby fishermen will find many places in Tivat where they can fish, for example, from the shore, from a barge, with pendulums, cast nets, nets and the like. If you are interested, more experienced local
fishermen will also tell you their secrets, e.g. how to fish at night "under the lantern", how to make "fish" for fish or how to fish once with a machete.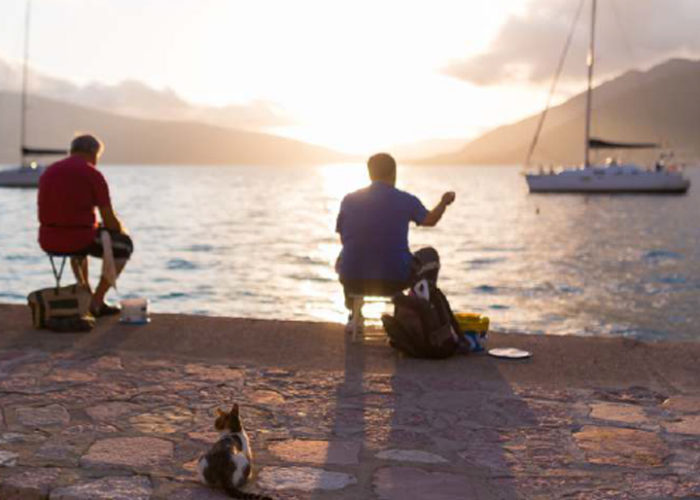 Sports games and competitions
Bowling Olympiad
For 70 years, the Bocce Olympiad have been held on the bocce courts of Tivat. Besides a large number of enthusiastic participants, the holding of this competition is also an attraction for vacationers interested in this ancient sport. It is still played according to the old rules of the game. The atmosphere that reigns during the competitions is typically Mediterranean – people often socialize until dawn while singing, eating and drinking.
Adriatic Games
They are held almost every year in Tivat, during the summer months, as well as in other coastal cities of the region. The competition takes place among local groups and each place designs its own competitive disciplines. These games also have an international character, as the competitors compete against opposing teams from Slovenia, Croatia and Italy.
3×3 Montenegro – Basketball competition
FIBA 3×3 basketball is like a very popular form of professional sports discipline – basketball, which is played on playgrounds and tournaments around the world, has also become an official FIBA discipline since 2010, with equal participation in the Olympic Games. It is played by all genders and all ages. The most attractive aspect of the entire competition is the location of the field (town squares, parks, shopping centers, etc.). In Tivat, it is the Pine waterfront.
Water polo camp
In cooperation with two local national team members, this international camp lasting a month and a half during the season gathers numerous participants – children from the countries of the region, teaching them new techniques of this sport.
Other Sports Facilities
There are a large number of amateur sports associations and clubs in the municipality of Tivat. Over 20 sports are represented, operating both independently and within the national federation. There are also ten bocce clubs in Tivat, which operate within the Montenegrin Bocce Federation and the Municipality of Tivat.
Sports in Tivat use about 54,000 m² of open and closed areas: sports hall "Župa", open training grounds for small sports, school halls and courts, bowling hall Kalimanj and 7 other open bowling courts, soccer fields, tennis courts, basketball courts, courts for cricket and polo, basketball courts and more.
More information can be found in the pdf brochure below.