First luxurious marine at the Adriatic Sea, Porto Montenegro, has been added to the map of the favorite world yacht clients. From the first plans till full operation it took only 5 years to build and develop Porto Montenegro, which quickly became known as the luxurious brand and stay of the art tourist attraction.
Pored marine, naselje Porto Montenegro, koje je osmišljeno da ispuni sva očekivanja vlasnika i posade jahti i drugih klijenata, obuhvata i prostrane apartmane na samoj obali mora, jedinstvene restorane, kafiće sa dobrim provodom, te veliki izbor sportskih, rekreativnih i kulturnih aktivnosti i događaja.
Marina trenutno ima 250 obezbijeđena veza za jahte od 12 do 150 metara dužine, a u izgradnji je još 185 vezova, od kojih će više od 50 biti namijenjena za superjahte duže od 45 metara.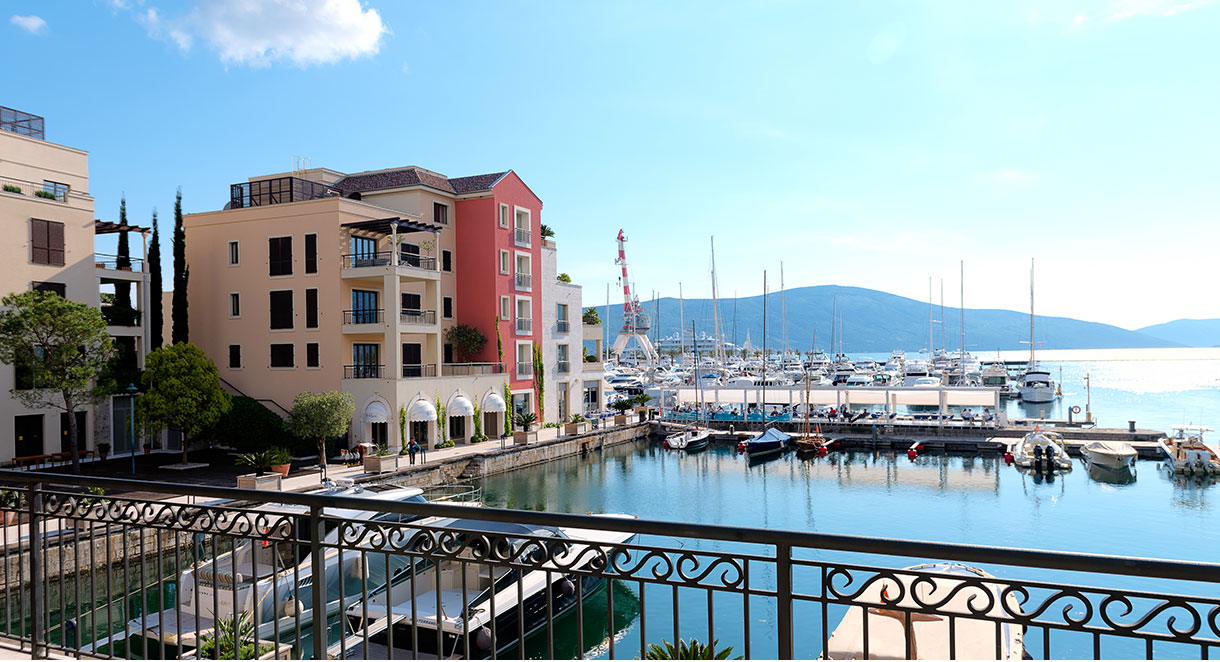 Porto Montenegro koji već sada predstavlja naselje međunarodnog karaktera, intimna je urbana cjelina na samoj obali mora i duž promenade, sa stambenim jedinicima visokih kvalifikacija: od jednosobnih do četvorosobnih stanova, dupleksa i penthaus apartmanima. Stambeno naselje Porto Montenegra se trenutno sastoji od pet završenih zgrada, Teuta, Ozana, Zeta, Milena i Tara, sa ukupno 128 stambenih jedinica.
Novi rezidencijalni objekat Ksenija, biće izgrađen u ljeto 2015.godine. Zgrada koju je dizajnirao londonski studio Reardon Smith Architects i firma MHZ iz Pariza, imaće 48 stanova, privatni bazen i teretanu za stanare, te centralno dvorište sa kafeima i trgovinama.. U promenadi na potezu od šetališta Pine ka zgradi Teuta i cijelom nautičkom naselju, posjetioci će uživati u mediteranskoj arhitelkturi.
Otvaranje luksuznog Regent Hotel and Residences planirano je u ljeto 2014.godine. Ovaj spektakularni posjed na samoj obali, dizajniran od strane Reardon Smith Architects, sadržaće 80 jedinica, uključujući hotelske sobe i rezidencije. Krov boje terakote, estetika inspirisana Venecijom i italijanskim palacima koji postoje širom zaliva, svjedoče o viševjekovnom uticaju Venecije na ovim prostorima. Centralni hol sa širokim pogledom na more i okolne planine vodi ka mirnoj "vodenoj bašti" koja sadrži potapajuću kamenu stazu povezanu sa "privatnim ostrvom" namjenjenim za večere i ekskluzivne događaje. Osmišljeni od strane Tino Zervudachi–ja, u prizemlju smješteni café, restoran, tzv. cigar lounge i library bar obezbjeđivaće veliki opseg ugostiteljskih usluga. Sada, u završnoj fazi izgradnje, prodaja Regent brendiranih stanova je premašila sva očekivanja.
Boravak u naselju i marini Porto Montenegro predstavlja zabavan, glamurozan i opuštajući doživljaj, uz mnoštvo sadržaja, ugostiteljskih objekata najvišeg ranga i modnih brendova. Jedinstveni lifestyle događaji poput 24 sata Elegancije, James Bond zabave povodom prezentacije luksuznog Mishara nakita, likovn eizložbe Od futurizma do savremene umjetnosti, prezentacija prve prestižne Mercedes Benz jahte Silver Arrows Marine, koncerti, modni i umjetnički performansi samo su neki od povoda da Porto Montenegro bude omiljeno mjesto okupljanja poslovnih klijenata, članova evropske jahting zajednice i mnogobrojnih turista.
Delicije internacionalne ili autentične tradicionalne kuhinje Mediterana mogu se degustirati u jednom od pet restorana u naselju, od italijanskih delicija, domaće tradicionalne I internacionalne kuhinje, do japanskog sušija. Vrhunski dizajnerski komadi garderobe sa potpisom YSL, Dolce & Gabana, Fendi i Etro, Anamar, Carolina Bucci, Italia, Independent, Mawi, Mooi, Samms, Heidi Klein, Roksanda Ilinčić,, Camilla, Vixi Zimmerman, samo su neka od modnih imena koja Porto Montenegro čine izuzetnom šoping destinacijom.
Rezidenti Porto Montenegra imaju sve uslove za dinamičan i kvalitetan način življenja tokom cijele godine u naselju.Tu je i Međunarodna škola Najtsbridž koja je postala prva autorizovana IB škola u Crnoj Gori, Sportski klub Porto Montenegra, Jahting klub i Muzej pomorskog nasljeđa.
Za više informacija posjetite web site: www.portomontenegro.com